photo Wilfred Gachau
Hanne Tofte Jespersen


composer
member of Danish Composers' Society, Danish Musicians Union &


IAWM (international alliance for women in music)




LIST OF WORKS

pdf

-

will open in new window
CV

pdf

-

will open in new window

I like to bridge performers and audiences. My own background is a broad one, I have roots in both classical European music, choir traditions, folk tones as well as world music, the latter after years of stay and work in West Africa.
As an artist I'm dedicated to making the invisible audible. I explore the outer and the inner world with my voice. Motives emerge through intuitive singing, and I quickly write them down as they are my key material to composing.
Some of my works have an underlying narrative. In other cases I have worked abstractly on basis of occurring motives. I also find it inspiring to compose for projects where children and youth meet and perform with professional musicians. I have created series of interactive & collaborate works
Read more

IF THE LAND COULD TALK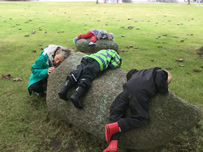 In this project I set urban and rural landscapes to music. In 2014-17 in 8 areas of Roskilde District.
latest project: May-June '17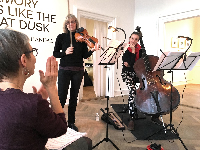 THE ETRURIA-SUITE from 2016 is a 20 minutes piece for violin og double bass in 9 short movements. The work has an underlying tale inspired by the Pyrgi tablets, an Etruscan artefact dedicated the goddess Uni Astri/ Astarte/ Ishtar.
LISTEN TO its 1.movement 'OPENING HOUR'
with Karen Humle, vl, & Ida Bach Jensen, db.
The Suite was completed during OPEN-MUSIC-WORK-PLACES
at The Museum of Contemporary Art
where I was engaged as a composer in November 16.
In December the music was 1st performed at Vendsyssel Art Museum at a concert featuring composers and musicians who introduced the new works from two workshop projects in 2016, and audience was engaged in open dialogue on the new pieces.
Latest performance was during Ribe Cultural night Oct 2018.AUDIO



COMPOSER NEWS

READ - VIEW - LISTEN
Click on images to see actual size.
Click on links to listen to the music.
Image- and audio files will open in seperate windows. Enjoy!
2023
NEW ALBUM
Hanne Tofte Jespersen
'WORKS FOR STRINGS'




FANTASIA for soloviolin
in view of J.S.Bach

THE NEW DAWNING
duo for two violins


ETRURIA SUITE
for violin & double bass




LISTEN
in high end / CD quality:
THANK YOU Koda Culture, DMF, the Soloists Association for support!
NEW COMMISSION for 2023:
Clarinetist ANNA KLETT has commissioned music by me for her solo concerts.
Most exciting as I am to compose
Metamorphoses - a solo dialogue
for both Eb clarinet and Basset horn.
Anna will 1st perform the piece on the Faroe Islands in July 2023.
2022
NEW CD:
String Quartet TIMES OF UNREST 'UROLIGE TIDER'
label DANACORD DACOCD 945

Thank you to the sponsors of this album:
Danish Arts Foundation, Augustinus, Beckett,
Louis-Hansen,
KODA Culture, DMF, DMF Roskilde, Solistforeningen



I composed this string quartet for the context of Haydn's Opus 76,2 (1797-98) and Britten's String Quartet No 1 (1941) - read more..

NEW COLLABORATIONS &
NEW COMMISSIONS:
NEW WORK FOR SOPRANO & PIANO:

"To Return To Where One Has Never Been Before"

Duo Karhuluoma-Andersson w/ Noora Karhuluoma, soprano from Finland & pianist Ida Andersson from the Åland Islands has invited Nordic composers to create new pieces.
As a Danish composer for their new concert series they chose me and commissioned a major piece . It has given me the opportunity to set an amazing new poem by Norwegian Marit Tusvik to music.
Thanks a lot to the sponsors of composer's fee:
Augustinus Fonden, Louis-Hansen Fonden, Dkf/Koda Culture.

1st perf. 2 Oct in Art Song Aarhus; also performed 4 Novin Ribe.
CHOIR MUSIC for FAROESE SILVITNI

UPCOMING ALBUMS
WORKS FOR STRINGS

recorded spring 2022, to be released Autumn 2022
FULL MOON' for 2 clarinets and piano for CATHY WOOD & JENNY MACLAY
I met Canadian CATHY WOOD in 2021 during Nordic Music Days when she played the 1st clarinet part in my Vibrandring-piece. She is a clarinet professor at Brandon University, Canada, and has an international carrier as a solo and chamber music clarinetist, incl. in a duo collaboration with Jenny Maclay. In 2022 Cathy commissioned a new piece by me for their Nordic program. I submitted 'FULL MOON' to them 1 May, and they are 1st performing the piece 2 July in Nevada US during the Int. Clarinet Fest 2022.
Thanks to DKF/ Koda Culture for supporting the composer's fee.
NEW ALBUM 'WORKS FOR STRINGS'
In April-May 2022three of my other works for string instruments have been studio recorded. This is for an online ALBUM on Presto Classical with:
- ETRURIA - Suite for violin & double bass with Kuno Kjærbye and Heiko Maschmann;
- THE NEW DAWNING - duo for to violins with Øssur Bæk and Kuno Kjærbye;
- FANTASIA IN VIEW OF J.S.BACH for soloviolin,
with Kuno Kjærbye.
Thanks to KODA Culture, DMF, Solistforeningen for supporting this album!


"VIBRANDRING FO-100" at
Nordic Music Days
1-4 September 2021
at the Faroe Islands
With 3 weeks residency, artist talk, workshops with Faroese students and performance of this work for singers and sinfonietta was performed 3 Sept.
as part of the festival programme
My piece 'FINDING CONSORTS' has been studio recorded after the Danish 1st performances Nov '21:
Contemporary music for fascinating historical string and wind instruments - performed by these most wonderful musicians:
Andreas Arend - theorbo, Heidi Gröger - viola da gamba, Emmanuelle Bernard - baroque violin, Núria Sanromà Gabàs - cornetto (zink).


I wrote "FINDING CONSORTS" for LÜBECKER LAUTEN LUST 2019. We were 2 Danish and 2 German composers, each commissioned to write a 15 min. piece, premiered in Lübeck (DE) .
Andreas Arend's group performed it in Denmark during festival TIDLØS / TIMELESS in Copenhagen and Roskilde, and also did a studio recording.



"FANTASIA in view of J.S.Bach"
for solo violin
My 12 min solo piece is
"A violin tale in which appears prayor to an angel", composed for the context of Bach's great C major Sonata and the
E major Partita for solo violin, and also inspirered by Helga Thoene's research of 'hidden chorals' in Bach's sonatas for solo violin.


Violinist Kuno Kjærbye commissioned this piece for his concert project with Bach's 6 solo sonatas/partiten and works for solo violin commissioned from three Danish composers. Mine was 1st performed 1 Nov. 2020, and Kuno Kjærbye has performed it at a series of concerts after.
The project was presented just before the break out of the pandemia... view:
http://www.frankensteins-lab.net/labs/the-devil-and-a-new-beginning
String quartet 'Times of Unrest':
The title of this project has proved almost prophetic...
I completed its 4th mov. whilst the pandemia was at its highest during spring 2020.
DR P2
broadcasted the premiere

The historical context is Haydn back in Vienna after his stays in London, then in the shadow of Napoleon rearming France; Britten at the beginning of the 2. world war had emigrated to US where the 1st performance took place, but decided to return to England.
On his journey crossing the Atlantic Ocean he rewrote his shining "Hymn to St Cecilia" to W.H. Auden's beautiful tribute to the guardian spirit of music.
Haydn-Britten and the present times, incl. the current pandemia have formed my inner resonating sound board when composing this quartet.
In its 2.movement I have incorporated motifs from the 2nd mov. of
Haydn's Opus 76,2. At the beginning and towards the end of the whole piece a certain harmonic structure brings an Hommage à Britten's choir work.
BRAGE in Randers commissioned this work in collaboration with Roskilde, Ribe, Lyngby-Taarbæk, Furesø chamber music societies.
Together with Nordic String Quartet we developed this programme.
Dates and venues
The project is sponsored by Augustinus Foundation,
William Demant Foundation, The Danish Arts Foundation,
Danish Composers Society / KODA Culture.


SILVITNI
is an excellent award winning
Faroese vocal group conducted by
Cynthia Gonzalez Parada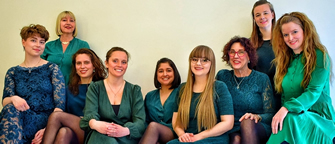 These nine brilliant singers incl. Cynthia herself renew with Silvitni vocal music for equal voices. I met them in the Faroe Islands during my project at Nordic Music Days 2021 and got absolutely overwhelmed by their energy and beautiful sound. Now they are invited to Denmark to perform during an arts project with concerts NOVEMBER 2023, and I am to create a new vocal work for the group. Looking much forward!

'VIBRANDRING' 2019 in Esbjerg-Varde:
The title of this innovative project is derived from the Danish words for vibrance, memory/erindring & wandering/vandring.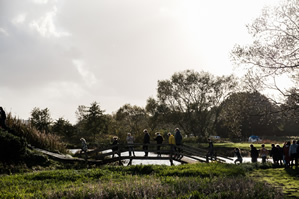 VIBRANDING 2018/19 produced by Esbjerg Ensemble is an
18 min. collaborate work for professional sinfonietta ensemble plus youth talents.
Vision: To add vibrance to a quarter of the town by creating a music work for it, basing it on walking the area in common. The Rørkjær quarter in Esbjerg was chosen by the local participants.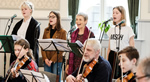 Talented 7th formers wrote texts based on their walking the same route. The signature music of the piece has lyrics by Icelandic author Einar Már Gudmundsson.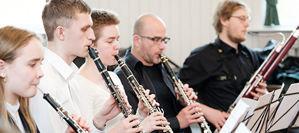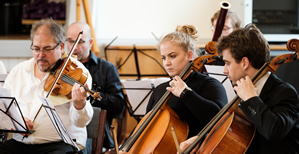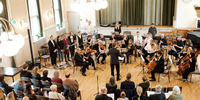 VIBRANDRING was
1st performed 5-6.april by Esbjerg Ensemble's
10 musicians together with 15 talented young singers and instrumentalists from Esbjerg and Varde Music Schools who have been part of the creative process. The youth talents played instruments which are also in the professional ensemble. Conductor Arne Balk Møller.
VIBRANDRING SPONSORS:
Danish Arts Foundations and Vadehavspuljen.
ALBUM:
GITTA-MARIA SJÖBERG & POLINA FRADKINA recorded my song cycle
'På Gjennomreise - Three songs for soprano & piano for poems by Marit Tusvik

'.



The album holds my songs together with Matti Borg's Cinq poèmes du Prince Concort Henrik, and Musorgskij's cycle 'The Nursery'.
Released on Presto Classical 2019; produced by Torsten Jessen.

The DUO as well as the Norwegian author Marit Tusvik are inspiring artistic collaborations for me. In the songs I have reached out for the poems' clear horizon of lived human experience to make it audible in corresponding transparency. The Danish Arts Foundation granted composer's fee for this commission, thanks to Roskilde Music Association and their 50 years anniversary celebrations.


MELANGELL - HONEY ANGEL
was toured in Iceland 2014.
Stefan Parkman conducted the performances
during Skálholt Summer Concerts
with Music for the Mysteries,
South Iceland Chamber Choir and
actor María Ellingsen as storyteller.
VIDEO



GOING TO HEAVEN
My work for male choir reached the final in
Linköping Student Singers' Composition Award 2016.
The choir recorded it in 2017, and in spring 2018 it has been released on their new album at Spotify.
'Going to Heaven' for TTBBB is to a poem by Emily Dickinson.
LISTEN..
IF THE LAND COULD TALK


My collaborate project
HVIS LANDET KUNNE TALE
has been on since 2014.

If the land could talk, it would have a lot to tell...
so I decided to set its silent speech to music together with 4-5 yr old children. We walk and sing the land of their local landscape, I compose based on the walks.
By June 2017 in all 48 kindergardens / 1200 children have taken part.
I have done 320 walks with children and composed
8 music works, each 25 min,
with in all 41 songs and 31 interludes scored for choreographed childrens voices & professional instrumentalists in varying trio combinations.
sponsors: Roskilde District, Danish Arts Foundation, Danish Musicians Union


This interactive music tale of mine



has been performed/produced by:
- ESBJERG ENSEMBLE
in two series of school- & family concerts in 16/17, featuring me in the role of story teller -
cf press coverage with video.
- GLOSTRUP DISTRICT


Glostrup music school has produced it
in all the district's primary schools
in Oct 2017 and in April-May 2019.
- DR festival
NEW INTERACTIVE MUSIC TALES
for children in 2013.
Here my tale was 1st performed after
being among the winners in their competition: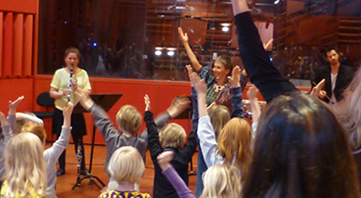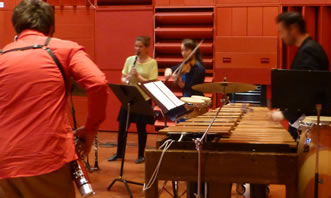 1st performance with Anna Klett, clarinet - Anrijs Ivanovskis, bassoon - Vera Panitch, violin - David Hildebrandt, perc, Hanne Tofte Jespersen, storyteller.


Danish Composers Association and DR-Musikariet (Radio Denmark) launched a competition in 2012 aiming at new music tales for children in which children would play an active tole in the storyline.
My proposal "Farvespillet / The Play of Colours" were among the winners.

LISTEN to extracts:



A 40 minutes interactive music tale for
5-8 year old children in which each instrument represents a colour and a character.
THE PLAY OF COLOURS is scored for violin, clarinet, bassoon, percussion*, storyteller and children's audience.
*) marimba, bongos, congas, temple blocks, triangle, chime, cymbal.
"THE PERCUSSION is a BLACK & WHITE jack of all trades who initiates the play. It consists of 4 dances:
The BASSOON has a RED dance full of funny movements, and you are the dancer. The CLARINET loves her YELLOW dance and would greatly prefer to enjoy it with her friend, the violin. The VIOLIN, though, so fast and full of ideas changes the yellow dance, and the clarinet gets angry and does not want to play the BLUE dance of the violin..... Thus the players need the children's help to get the clarinet back into the game so that all may reach the GREEN dance, for you to finally paint it all on the card of the play".

duo for violin and organ which

Kuno Kjærbye and Erik Hildebrandt-Nielsen
first performed April 2017 at
Gottorf Castle Chapel in Schleswig (DE).
I composed two commissioned duos for solo violin & organ for GOTTORFER MUSIK IM LUTHERJAHR
'Gottorfer Tongewebe' ('tone web/ tone weaving'), and 'Hommage à Nicolaus Bruhns'. Gottorf Castle Chapel has remained untouched with its wonderful acoustics since the 16th century, and the organ is restored to what it orginally was. So 'Gottorfer Tongwebe' is inspired by the chance of bringing these unique sounds of the past into the present. During the creative process I had the opportunity to spend two days of writing by the historical organ in the very chapel.


The duo Kjærbye & Hildebrandt-Nielsen commissioned these pieces for their new programme in which they juxtapose new works with North German baroque music for both to shed light on one another.



LISTEN to 'SPLINTRET LYKKE /
Splintered Happiness'
with ENSEMBLE STORSTRØM
- the 7.mov. of this commissioned work which I composed in 2017 for the ensemble's new outreach project
'THE GARDEN - 3 Tales'

I created the music as 'audio images' (to be performed live) on the garden / park of Fuglsang Manor House
and some common figures whose lives were
connected with the garden - in no. 7 it is
a young servant maid whose happiness is broken.
Produced by Ensemble Strostrøm in a collaboration with Fuglsang Art Museum, Museum Lolland-Falster and Kulturtjenesten.
These eight HØREBILLEDER /Audio images
(30 min for fl,cl,bs,hp,p, vl,vla,vcl) now form the concert of the project and bridges a historical insight into 'Fuglsang of the past' on the one hand, and a visual art workshop on the other.
the 2nd Audio Image